Ashton Rodgers, photographer based in San Antonio TX, gave me a very exciting call to partner with him in creating a bid, and landing the job for Sweet Baby Ray's BBQ Sauce via MMB (McCarthy Mambro Bertino) in Boston. What better place to shoot than right here in central Texas! So many great barbecue options to explore for our environment surroundings. We visited the famous barbecue city of Lockhart TX, it's neighbor Lubing TX, and of course several options in my beloved Austin. As it turns out, the Austin offerings were amazing in their product, but the establishments are all rather small or based in food trailers. Wonderful for the people of Austin, but wouldn't work for our needs with Sweet Baby Rays.
The restaurants in Lockhart TX were so much older, larger, and just perfect for us. We ended up shooting in the famous Kreuz Market BBQ, and Luling City Market BBQ. Each had the character and years of beautiful carcinogens covering the walls and ceilings, resulting in their signature flavors. The fellas running these bbq joints were also just wonderful for the campaign. True characters in their trade! These men have been featured in magazines such as Texas Monthly several times. We just can't get enough barbecue here in Texas.
We captured several different scenes with and without model talent. The weather was the coldest that Lockhart TX had seen in many many years. It was only 27º all day, and we were to be set up in the screen patio area at Kreuz. The Boston agency men and myself (being from MN) handled it quite well, but the Texans were all struggling to keep warm. Ashton did a great job keeping the energy high and capturing great expressions from the chilly model talent. On the last day we headed back into the studio to knock out a few prepared food shots with our food stylist: a very saucy bbq beef and bacon burger, and some gorgeous chicken wings as a special add on.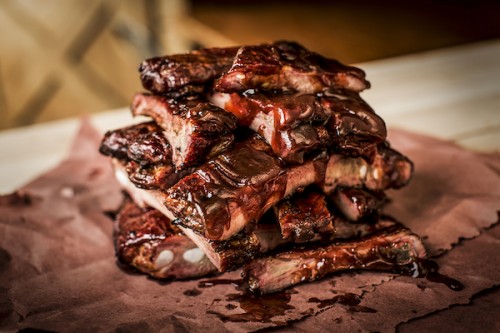 Here are two ads of the five we shot. Images to appear online and in magazines near you!
And some Behind the Scenes images:
Our fabulous crew: Lauren Smith Ford (Wardrobe & Prop Stylist), Lisa Gleeson (Hair & Makeup Artist), Tina Bell Stamos (Food Stylist), Robert Amador (Photo Asst).